Customers And Products First, Price Second- Our Everlasting Pursuit
1. Background
Tongheng Hotel Equipment Co., Ltd. is located in Nanhai District, Foshan City, Guangdong Province. It is a high-quality local enterprise mainly producing commercial food equipment. It was founded in 2007 and has been committed to research and development and production of food factories, hotels, restaurants, and chain stores.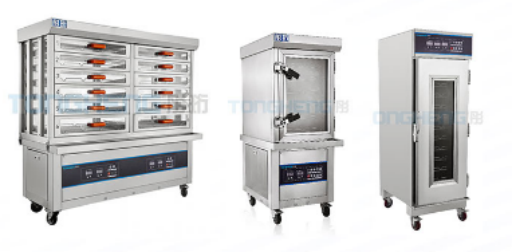 Professional steam equipment required for other applications. We have professional technicians and independent research and development team and products including large-scale fermentation room, large-scale steaming room, large-scale disinfection room, proofing cabinet, steaming bag cabinet, heat preservation display cabinet, steamed cake cabinet, seafood cabinet, and can provide customers with catering equipment OEM/ODM services and undertaking commercial kitchens, food factory new installations, reconstruction projects, etc., from planning and design, to production, installation, commissioning and technical training and other one-stop services. The company is equipped with a number of experienced R&D technicians, adopts intelligent laser cutting equipment, advanced CNC machine tools, and employs dozens of experienced and skilled professional masters. Advanced and scientific management system and process have laid a solid foundation for manufacturing good products.
2. Professional equipment
2.1 Insulated Holding and Proofing Cabinet
All-steel box structure, beautiful appearance, excellent insulation, strong and durable, spacious window design, the food fermentation process can be seen at a glance, the movable shelves can be adjusted arbitrarily, convenient and practical; many bun shops use traditional fermentation methods, the fermentation time is long, the dough quality unstable, the dough needs to be kneaded immediately after the fermentation is complete, and the product is often different due to the change of the master.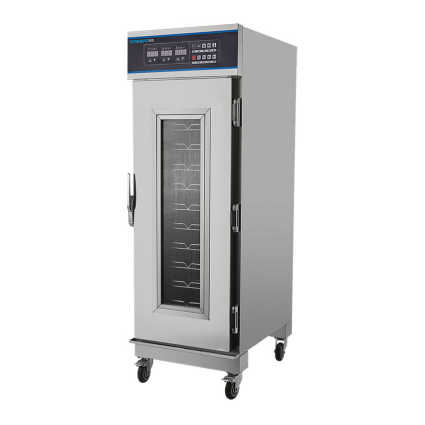 The Tongheng 12 trays insulated holding and proofing cabinet can save more than double the fermentation time. The timer function of fermentation cabinet can ensure that the buns will not become sour due to too long fermentation time; through the function of refrigeration and freeze in other models, the fermentation of the dough is delayed to ensure that the dough is in good condition. At the same time, the steamed stuffed bun fermentation can be observed through the glass window, and good results can be achieved by adjusting the temperature and humidity.
2.1.2 6 Trays Commercial Stainless Steel Steamer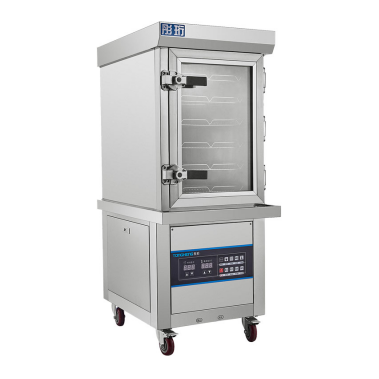 Compared with traditional manual steaming, steaming cabinet equipment has more obvious advantages. It is both beautiful and durable. It has a fully sealed overall heat-resistant material insulation structure, good thermal insulation performance, short heating time and long working life. Preset temperature and time, no fear of cooking failure.Fool-like operation, no need for skilled manual labor, ordinary employees can easily master the process. Stainless steel tray and food-grade silicone rubber mat. It is also more sanitary and convenient to clean.And there is no need to worry about the bamboo debris falling from the bamboo steamer.
2.1.2 6/12 Drawers Steam Food Warmer Cabinet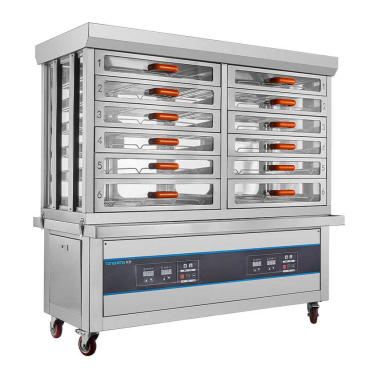 The steam food warmer cabinet is made of tempered glass on all sides, and the stainless steel cabinet body is transparent and visually beautiful, which stimulates the appetite. It has a water shortage protection device to prevent the electric heating tube from drying out. The steamed bun display cabinet has reliable performance. Well, the steamed buns will not lose their taste due to water loss or covering for a long time.Drawer – like compartments for easy access and storage of dishes.The rear-door model is designed so that not only chefs can pick up and drop off food, but also guests can help themselves.And the whole store looks high-end and elegant.
2.1.3 Commercial Food Steamer & Food Warmer All in One Machine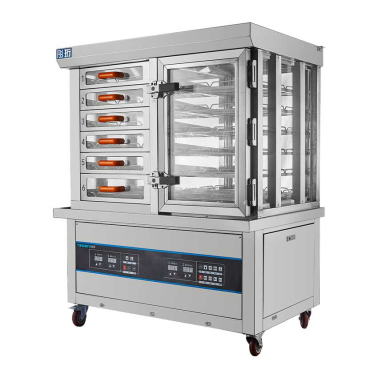 The steamer & warmer all in one Machine cabinet with the perfect combination of steaming and heat preservation saves time, is convenient and fast, saves the store area, and increases the output per capita. Two parts can be adjusted separately, cooking and preservation is not to disturb each other. Uniform size accessories, reduce the trouble of changing containers. It is especially suitable for the upgrading and transformation of brand bakery stores, and is favored by chain enterprises!
2.1.4 Industrial Proofing Room
The proofing room dedicated to the bun factory is more suitable for the fermentation of traditional pasta. It adopts a new design, which eliminates the cumbersome operation of the traditional operation. It is simpler to use and the fermentation effect is better. The inside is all stainless steel cabinet structure, the product is more luxurious and beautiful.
Meanwhile, the overall foaming and door sealing technology, high-efficiency fermentation, energy saving and time-saving; equipped with a microcomputer and air circulation system, can create a stable temperature and humidity, temperature and humidity control is more convenient. Impact swinging traffic doors with tempered glass observe windows allows users to pass through without obstacles while carrying trolleys.Its outstanding fermentation performance has become the preferred model for more food processing factories, steamed stuffed bun chain headquarters, school cafeterias, bakeries, bread production workshops, etc.!
Conclusion
The food steamer cabinet is made of high quality stainless steel, which has been polished. Multifunctional electric food steamer, whole cabinet. It is suitable for steaming multiple dishes, such as seafood, eggs, meat, vegetables, fruits and other foods and can be used for a long time. The electric steamer, convenient and fast, is an excellent big restaurant kitchen or steamed food shops accessory. Besides, the steamer is not easy to rust, can be used for a long time. With low prices but high quality, Tongheng has been devoting ourselves into providing more good products for our clients all around the world. If any interests in our steamer or cabinets please contact with us as soon as possible.
1

Hey friend! Welcome! Got a minute to chat?